Since I bought a food processor my cooking has been revolutionized. It's nothing but a simple juicer that soon earned space and authority in my kitchen as the author of many smoothies and drinks. This tomato soup made on a windy winter day in London, is only one of the ways I implemented the cheap tool. I am not ashamed to tell you I have even used it to make a ragu (well, my mum in Italy would be ashamed). 
Although effortless in principle, a good tomato soup is not easy to make. I've experienced a few disasters with most of my attempts leading to sour and/or too liquid soups. We all know how good fresh tomato is: why is it that when cooked and processed to a sauce, tomato brings lots of acidity to the palate (and stomach)?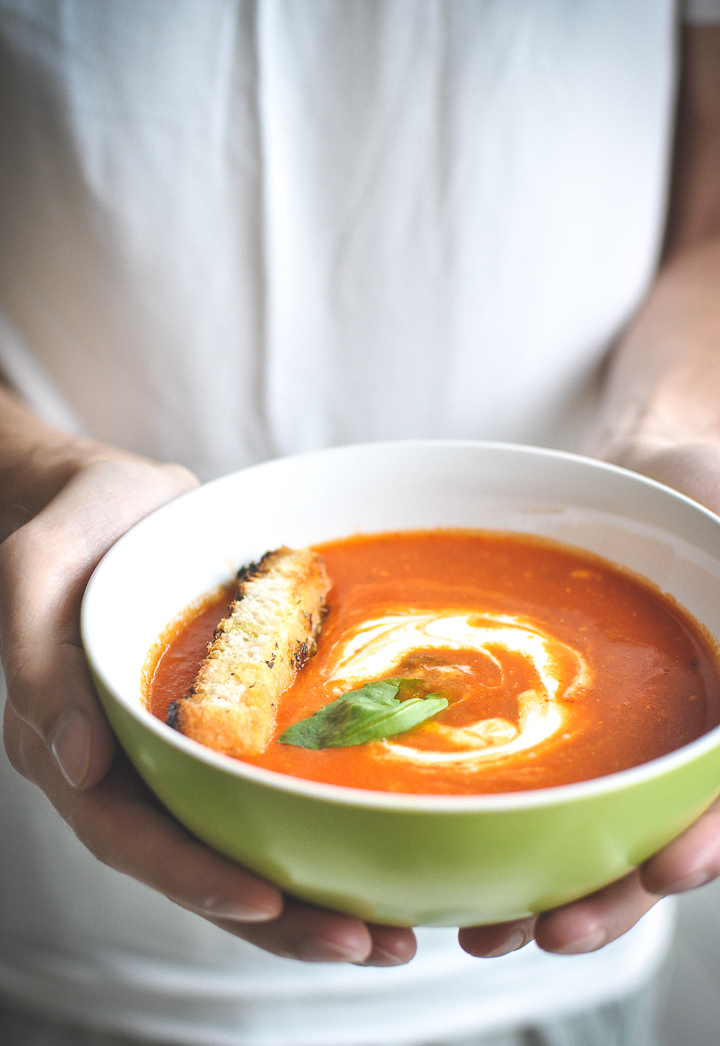 In short, I was never that lucky to find the perfect sweet tomatoes and I always disliked the taste of my soup.
Then I changed strategy:
I started selecting the right ingredients what I like to call "the unconventional tomatoes". Those ones pretty soft and very ripe. Those ones you wouldn't consider because they are too mature and you'd never buy for any other recipe. Long and moisty San Marzano tomatoes would be just perfect, otherwise well ripen tomatoes on the vine would do well too. 
Before leaving you to the recipe I'm going to "reveal" one last secret. How I prevent the soup from becoming too acidic. Which would always happen otherwise, no matter the kind of tomato I use, since any tomato juice has a pH of about 4.3, a rather low value  (low pH,  high acidity).
All types of dairy products produce acids in our stomachs. Cream, butter and  milk are among them. Fresh low-fat yogurt is an exception, providing proteins that nourish without producing acids. Here's then unveiled my secret ingredient: yogurt. Many would choose a sour cream or butter; to make the soup gentle to my stomach I opt for a dense organic yogurt, instead. Try it this way and let me know.
Now off to blend more stuff. What do you use your blender for? If you have any "crazy" idea, please share it with me!
Tomato and Basil Soup
Ingredients
5

ripe tomatoes

1

yellow pepper

optional

salt and chilli

3

Tbsp

natural yogurt

1

cup

tomato sauce

italian passata

Few leaves of basil

3

Tbsp

Olive Oil
Instructions
Bring the tomatoes to the boil. Cook until the skin starts peeling off.

In another pan meantime cook the tomato sauce with chilli and oil for 10-15 minutes minutes.

Let this sauce cool down then pour it the blender together with the tomatoes and blend on high for about 60 seconds or until blended to a smooth consistency.

Add the basil leaves to the soup and transfer to a sauce pan, heat for for 3-4 mins. Turn off the fire, add the yogurt and stir well. Garnish with more basil and, and if you want the soup chunkier, dice up some pieces of vegetables you have available. Serve with toasted bread (which you can drizzle with olive oil, vinegar and oregano and grill in the oven for 3-4 mins).