Sanguinaccio is a typical Neapolitan black pudding originally prepared with pig's blood during the Carnival holidays.
Now don't tell me you expected something pink, heart shaped and cute for Valentine's Day. I wouldn't like to disappoint you but…
Things are that I'm not too up for acts of romanticism inspired by a well planned marketing strategy.  I can hold down my cynicism, though. I am not even supporting the group of men that on Saturday will march in Tokyo  for a "Smash Valentine's Day" protest! 🙂
A pig's blood-based chocolate sauce sounds just about right to celebrate the sweetest day of the year.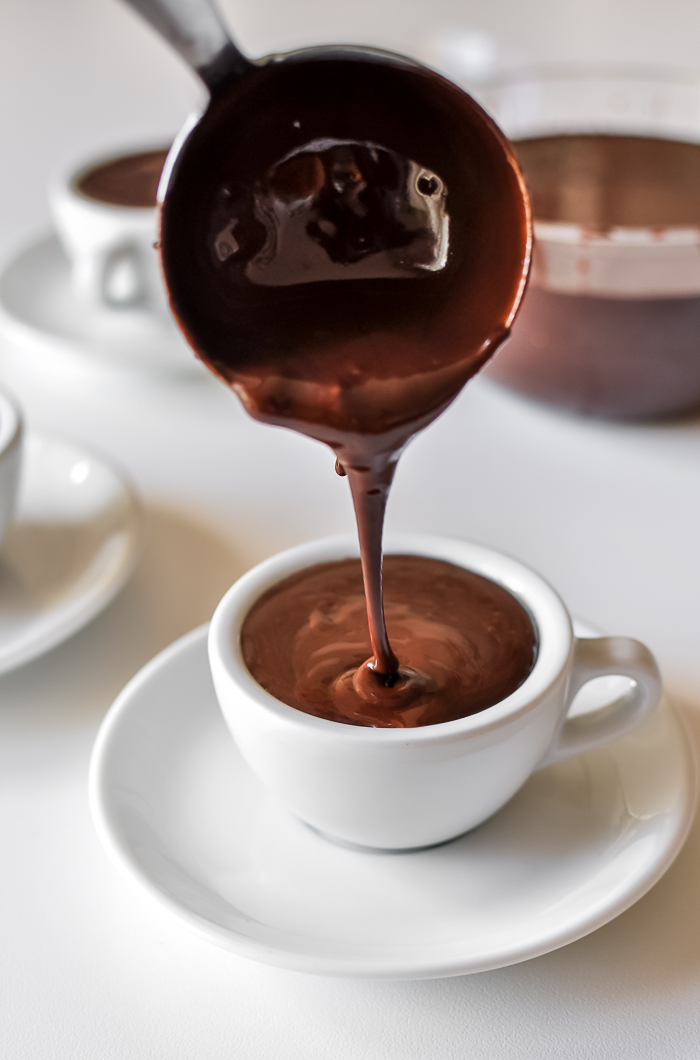 The sale of pig's blood was banned in Italy in 1992 when the blood was more appropriately replaced by dark chocolate. Now everyone in Italy finds the idea of freshly slaughtered pig's blood disgusting but back in the day, this sauce was just a way to celebrate the time of the year where pigs where slaughtered in the countryside guaranteeing many months of meat supply.
Obviously there's no blood in my recipe. This sanguinaccio (from "sangue", blood in Italian) is a thick vegan (I used rice milk) chocolate sauce flavored with lots of cinnamon and vanilla. Simply luscious.
Can I confess I just shared this chocolate sauce poured over fresh strawberries with my boyfriend? If this makes me a romantic person I'm happy to fall into the category. Here is the type of romanticism I like to embrace: made of small things and simple acts of kindness. Pacific too: no blood involved!
What about your Valentine's Day? Are you going to eat out a romantic dinner with your partner, send a card to a secret love or cook something special for your loved one?
Sanguinaccio aka Neapolitan Chocolate Sauce
Ingredients
500

ml

rice milk

or an other milk

100

g

sugar

125

g

cocoa powder

50

g

dark chocolate

50

g

cornstarch

1

teaspoon

cinnamon

1

tablespoon

vanilla extract
Instructions
In a saucepan, mix cornstarch with cocoa and sugar. Slowly add the milk while continuously stirring.

Put on the stove over low heat and cook stirring constantly. When the mixture has thickened (about 6-8 minutes) add cinnamon and dark chocolate cut into small pieces.

Cook for 2-3 minutes more while stirring. Remove the pudding from the heat and serve with cream, nuts or cookies. Store in the fridge for up to 1 week.